We Come to You
We bring the framing gallery to your business or home. With this more personal one-on-one approach, we work together to coordinate the mat and frames to suit décor of the office or living space. Seeing the samples in your own home allows you to experiment with frames and colors you might not otherwise consider. You will know exactly how the framed piece will look in your home, before we begin to frame your piece.
I was just going through the photo stream on my phone as I sit waiting for my delayed flight to depart. WOW! What a difference on the before and after. The way you framed the wall art added such a level of sophistication that I always envisioned but could never realize. And you did that so effortlessly! Can't THANK YOU ENOUGH! — Deidre
How Does Mobile Framing Work?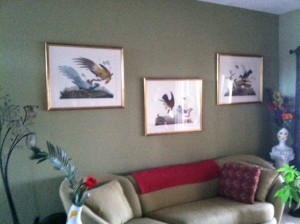 Step 1.
Call Us. We'll do a short phone interview and ask a few questions to make sure we understand your needs, and make an appointment to meet at your location.
Step 2.
We bring the matt and moulding samples and lay them out in your space. You make the decision for the frame, matt and glass; and we'll agree on a price for the work.
Step 3.
We frame your item in our workshop.
Step 4.
When your frame is ready we'll call you. You can either pick it up at our The Framer, or arrange a convenient time for delivery and installation, if necessary.
Mirrors
Mobile framing is also a great way to get just the right frame for mirrors that may be permanently mounted in your home, office or commercial space. Learn more about Mirrors and Whole Wall Mirrors here.
Call Us
Mobile framing is the best way to get a frame that looks perfect in your home or office environment.
Call us for information about our Mobile Framing services (941) 756-5811